Tips
How to make your Laptop a Wireless Hotspot
Hi all!
Debo here with another basic post.
The funny thing about these basic things are, they're are the things people find most difficult to accomplish.
Or how would you explain what Google Auto Suggest gives you as soon as you type "How to"… It autocompletes it to How to m… (Go ahead, try it). Do we really need to ask Google how to do that? 😐
To the reason why we're here.
Imagine a rainy Saturday morning, after all the exertions of Friday night. You're just faffing around in your friend's house. Charging your iPhone, Samsung Galaxy Tab and Blackberry. You wished you were Instagramming and Pinging away, but you can't, because as usual, you use a Glo line and you know the slogan with Glo Network- "when it rains, we suck". (We are imagining, ok?…..
….then your friend brings out his Starcomms iZap, LOL, I know, no one uses them anymore. Ok, your friend brings out his Swift USB Modem. Connects his laptop, and he starts browsing while you're tearing your hair as all your BBM messages have the red clock, your Instagram keeps saying 'No Network Connection' and Sky Sport's home page has been loading for what seems an eternity, you just want to check if your club's best player passed his late fitness test for the Manchester derby  at 12:45.
We love your hair, we don't want you to tear it out, so we have a solution for you.
If your friend uses a Mac, you're lucky. Cos, it takes only a few steps, for you to convert your Mac to a Hotspot. However, if your friend uses a Windows Laptop, pele, turning his laptop into a hotspot would be as straightforward as a Nigerian Politician, but its doable. A download here, some configuration here and there and kaboom, you're sharing the Swift roadband connection on your phone. Suddenly you have 24 'pings, the food Chef Fregz uploaded on Instagram is making your mouth water, and as per your Sky Sports webpage, your worst fears are confirmed! Your  expensive newly-acquired-injury-prone key player has been ruled out for 8 months. Hahaha.
USING A MAC LAPTOP AS A HOTSPOT
After ensuring that you're connected to the internet on your Mac, either with a LAN (Ethernet) cable or USB Modem. Take the following steps;
Launch "System Preferences" from the Apple menu and click on "Sharing"
Click on "Internet Sharing" from the left menu
Select the pull-down menu next to "Share your connection from:" and choose the internet you want to share.
In the image below, it shows "Ethernet". In other instances, you might have "ZTE USB Modem", depending on the modem you're connected to the internet with.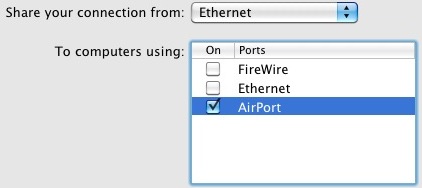 Alongside "To computers using:" check the box next to "Wi-Fi" or "AirPort" (name depends on OS X 10.7 vs 10.6)
Next click on "Wi-Fi Options" and name the network, and then click to enable security/encryption, and then type in a WEP key as the wireless password

Click "OK" and confirm that you want to start internet sharing
Simple eh?  Thats Apple for you.
Microsoft however…
USING YOUR WINDOWS LAPTOP TO A HOTSPOT
Requirements:
1. wired connection (USB or LAN Port)
2. A working wireless port/card
3. At least small sense 😐
4. Before I forget, the computer has to be Windows 7 o! Una still dey use Vista? (Eeeew) or XP? (ha!)
Formerly, we were all over this software called Connectify, then it started causing kasala, (for me anyway, you can still check it out here if you want to), so we moved to mHotspot. Its a lighter and easier to use software that serves the same purpose.
Instructions:
Download the mhotspot software from here
Run the mhotspot4lite.exe file.(click 'yes' if asked for access)
Go to Setup tab and enter the hotspot name and password of your choice.

Now,goto hotspot tab , click Start hotspot and "open network and sharing centre".

Click on the blue label of your active internet connection .
eg. Local area connection,PPOE connection, 3G-USB Connection, etc.
Then a status box will appear, click properies.
Go to sharing tab and tick the box,"Allow other users to connect through this computer's internet connection" and select the wireless network connection 2.
Need NOT setup the hotspot each time you start the application or reboot the system.
SETUP only once.
Click "start hotspot" to enable sharing your internet through wifi.
Click stop to disable sharing.
*whew*
Final View:


Courtesy www.mhotspot.com

If you have any challenges… Use the comment box below.

Peace out!