Devices
The 11 coolest gadgets from CES 2015
The Consumer Electronics Show (CES) is basically what kicks-off every new year in terms of what to expect from gadgets in the year and also what trends are set to dominate the tech space. It covers all sorts of gadgets, from sensible to the outright insane. This year, the strongest themes are connectivity, internet of things, sensors and drones.
We have scoured through a lot of the gadgets that were on display at CES, and here are 11 of our favourites not in any order:
Quell:
Chronic, consistent pain either due to injury or some other condition is a situation that gives doctors and nurses nightmares. On one hand, you want to give painkillers to the patient to relieve the pain, albeit temporarily and on the other, you don't want the patient to get addicted to painkillers.
Enter Quell – a TENS (Transcutaneous Electrical Nerve Stimulation) unit which the makers claim can reduce pain from diverse maladies such as sciatica, fibromyalgia, rhematoid arthritis and more in as little as 15 minutes. Quell works by stimulating the sensory nerves in your calf, which sends neural pulses to your brain, where they trigger the body's natural painkillers.
Lantronix Zano:
Drones are the rage right now, and even from childhood, there has always been something appealing (at least for me) about remote controlled flight. The Zano, which first gathered buzz during its kickstarter funding drive, differentiates itself by size and features. It is a palm-sized quadcopter which is controlled with your smartphone rather than  some clunky controller with antennas and can "avoid obstacles, hold its position and know exactly where it is in conjunction with your smart device." Did I mention that it shoots HD photos and video?
Pono PonoPlayer:
If you are one of those that like live music and download your music in FLAC formats, just because you don't want any loss in the quality of sound that you listen to, the ponoplayer might be it for you. It's a high quality, high-resolution portable digital music player designed by Neil Young (a musician) to be "the next best thing to live music." There are very few portable high resolution audio players available at all to start with, and the $400 price tag on the Ponoplayer, makes it about the cheapest one available.
The LG G Flex 2:
We had a quick look at LG's first "banana phone" when it came out. But LG's brought it back and this time it's better. The LG G Flex 2 mashes the curves of the first LG Flex, the new Snapdragon 801 processor and some of the best features from the LG G3 one of the best android phones from last year. The LG's curved phone goes from gimmick to real contender in this second attempt.
The ASUS ZenFone 2
The Zenfone 2 has a lot of compelling reasons to be one of the coolest gadgets to make it to CES this year including:
It costs $199 (Under N40,000)
Is probably the first smartphone to reach the mass production stage with 4GB RAM.
Features a 5.5-inch, 403ppi full HD display (not much different from what's on the iPhone 6 Plus)
Has a 3000mAh battery
64-bit processor
Solid hardware with brushed aluminium finish.
Ships with android 5.0 (lollipop)
Did I mention it costs $199???
Withings Acitivite Pop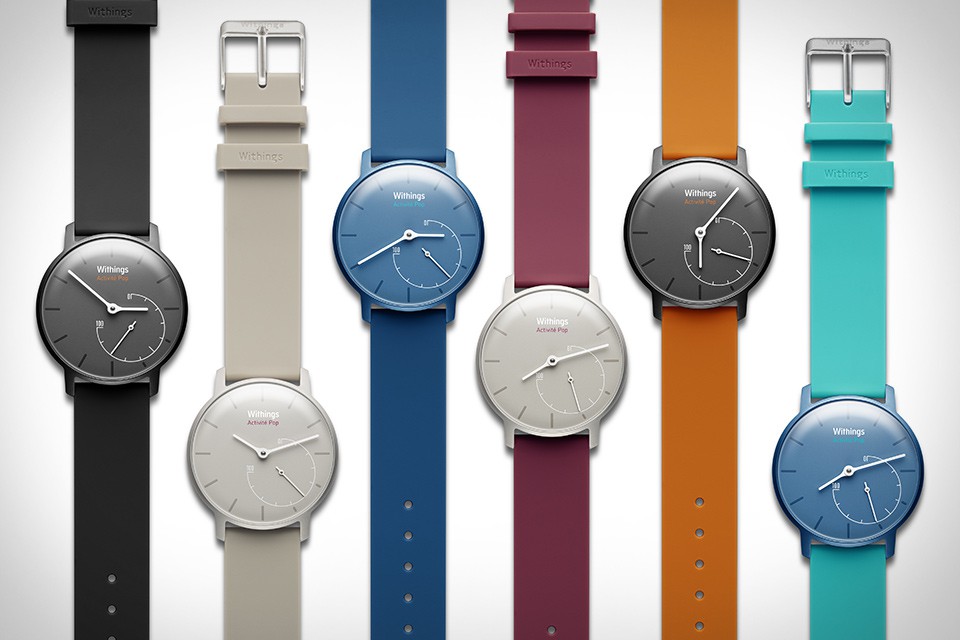 The original Withings Activite which launched just before CES is a smart "dumb" watch. It looks like a regular watch, and in fact, it is a regular watch (the kind with battery that lasts for a whole year), that connects to your smartphone via bluetooth and can track your activities and display your progress in its mobile app and also track your progress with a mechanical hand on the watch face. But because it is Swiss made, and features an "unscratchable" sapphire glass and some premium straps made from calfs, It cost a whooping $450. (Original swiss made watches are expensive on their own if we're being honest).
The Withings Activite Pop which demoed at CES, is the same watch, made outside Switzerland, without the Sapphire glass and premium leather straps, but with all the fitness activity tracking of the more expensive sibling for a 3rd the price ($150). Color me interested. The coolest thing about the activite, is that it is a really cool "regular watch, that uses regular watch batteries which can last up to a year and a mechanical dial, to give you a glimpse of how much of your fitness goals and a broader look at your fitness tracking in its app on your phone which it connects to via bluetooth.
Dell XPS 13:
If there's one Windows Laptop you want to push in the face of everyone who extols the virtues of a Macbook these days, its the new Dell XPS 13. Featuring a 13.3-inch, 3200 x 1800 high-resolution touchscreen display with almost non-existent bezels, the newest intel processor (with options for iCore 3 through to i7), options of 4G or 8GB RAM and 15-hour battery life. It's one of the most beautiful Windows Laptops out now. Pity there isn't a 16GB RAM version.
Sony Walkman ZX2
Everyone loves a good comeback. The Sony Walkman is back.
If like me, you grew up chewing batteries to get extra juice to power your walkman and always carried a biro in your pocket at the risk of blotching your trousers with ink, just so you could rewind and fast forward your tape manually to save the battery on your walkman and then you graduated to Sony Ericsson Walkman series (W-series) phones, you will be happy to hear that Sony has brought the Walkman back.
What you may not be happy to hear about is the price – $1,200. For that price, you get a device focused on high audio resolution, with support for DSD, WAV, AIFF, FLAC, Apple Lossless, and more. It is also capable of Bluetooth wireless streaming and features NFC for one-touch pairing to speakers and headphones.
The hardware is impressive as well from a design perspective, and features 128GB storage onboard with support for another 128GB via SD card if you want more space. On the software side of things, it has got android 4.2 running the show and it will run android apps for other purposes if you choose to install them on it.
Dell Venue 8 7000
We had looked at this tablet in the past, but now it's finished and it's just as cool as the first time we discovered it. It's the thinnest tablet in the world and features an an excellent QHD 2,560 x 1,600 OLED display, really thin bezels, stereo speakers and 3-D cameras that are more function than gimmick. On the insides, you get a 2.3GHz Intel Atom quad-core processor, 2GB of RAM, 16GB of storage, and a MicroSD slot that can expand storage by 512GB. At the moment, it ships with android 4.4 (kitkat), but Dell promises that an android 5.0 (lollipop) update is not far behind.
It quite possibly was the coolest tablet on display at CES 2015.
LG Web OS Watch
While Audi was demoing their smartwatch integration by unlocking a car with a smartwatch, all attention turned to the watch itself. No one had seen it before. The watch which was built by LG specifically for the Audi demo, turns out to probably be the coolest smartwatch made yet and it's not even available for sale! The watch runs on Web OS from the defunct Palm, which LG now owns and features a well thought out circular menu, and circular apps and a UI specifically built to look good on a circular watchface. The watch itself is a really great looking, premium build, the kind that cost a stack and a half without all the smart trimmings.  It also has support for cellular data, complete with a phone app and text messaging app…all in that compact package.
HP Pavillion Mini
Pause. Take a second to look at your desktop right now. At the time you bought it, did you think you will see the day that another desktop, just 2-inches tall will be a possible replacement? The HP Pavillion Mini packs an intel chip (you get to choose between two), 4GB or 8GB RAM, 3-in-2 card reader, a choice of 500GB or 1TB hard disk, support for wireless keyboard and mouse, 4 USB ports and a HDMI out port into a package that can balance on the palm of your hands.
There loads of other things that are mention worthy, baby pacifiers with sensors that monitor your baby, shoe soles that keep your feet warm and track your fitness, 360-degree speakers that look like ornaments, a belt that tracks your fitness, cars that won't crash, advances in in-car infotainment systems and a lot more stuff which we couldn't mention due to obvious reasons, but what were the coolest things you spotted at CES 2015? Let us know!